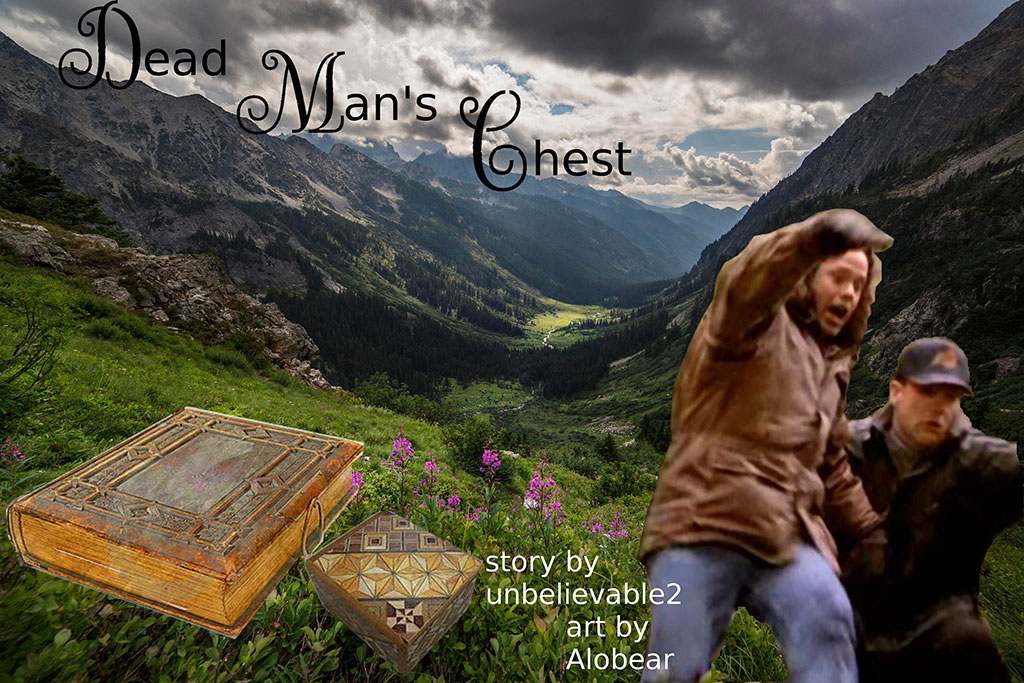 Dead Man's Chest by unbelievable2, illustrated by Alobear
---
Genre: Gen, casefic, adventure
Rating: All ages
Warnings: None
Summary: The guys find what looks like a treasure map in an old book, and Blair drags Jim off to look for the hoard. But if this is the last testament of Fabian McKee, an 18th century privateer, then why are the Russian Mafia, the Italian Mafia, the Yakuza, the Triads and a bunch of Far right Extremists all so interested? And what are the odds of our heroes getting out alive?
Author's notes: In honour of the Sentinel's 20th anniversary, I decided to try writing something in the style of a classic episode - say Season Two-ish - complete with stock villains of dubious ethnicity, a ridiculous plot, danger, jeopardy, gratuitous explosions, a big slug of h/c, Blessed Protectorism, and Simon being grumpy. Only the reader can judge whether I have succeeded!
Huge thanks as ever to the Mods for their superb organisation of the Big Bang, and their hard work in bringing it all together.
And special huge thanks to Alobear, who not only produced a wonderfully atmospheric piece of artwork to accompany the story, completely capturing what I was aiming to write, but she was also my beta and, as usual, turned it all round in a nano-second, complete with trenchant, incisive comments, wise advice and a meticulous eye for detail. Any mistakes that remain are mine alone.
Artist's's notes: I had so much fun putting this together - it went through five different versions, and involved learning new photo manipulation skills. I must thank unbelievable2 for providing such an inspiring story to make art for - I just hope I've done it justice!
---